How to use FabLab RUC
FabLab RUC is an experimental research and learning environment. Be curious. Move the possibilities of technology forward. Make a difference - improve the world. Make something useful for society.
Come in! Welcome! Please feel free to work on your project in this space. Grab a free spot and make yourself comfortable. We are open for all, you do not have to be a student or researcher at RUC.
---
Yes, you can just turn up in our opening hours, also if you are not from RUC. This includes companies, large and small - we are a commercial-friendly Fablab. This offer is only for individuals and small groups. Larger groups of more than 10 people will need a prior appointment.

Yes, access, guidence and use of the machines is free. (See restrictions further down)

Academic projects at RUC can get assigned a technology consultant, please tell us and apply here so we can help you more. (only for RUC students)

No, we do not sell materials (See information on materials further down)

Yes, you can make a commercial prototype or something for yourself. As long as you are learning something, you can build or repair it here. We do however have less time to help you than RUC academic projects.

No, you cannot book a machine. You can collaboratively share the space with others to create an inspiring creative entrepreneurial environment. If there is a queue for a machine, it is one sheet at a time, not your whole job. You can phone 4674 2055 and ask what the status is today.

You need to read this page and other relevant guides on this site before arriving. Please bring files on a USB stick in the right format for the machine you want to use, and preferably your computer so you can fix any issues.

We will try to guide you as much as we can, but we have limited time that we try to distribute among the many tasks of running a lab. Try to be ready to receive help effectively (the file open on your screen, your computer charged, you know where you saved the file, you have a USB stick etc.) (Please see "What to expect" further down)

Photos will be shared - consider the FabLab a public space - we take photos and share them online with the comunity, entrance is acceptance of this. If this is a problem tell us and we are happy to oblige. We ask that you document your own process and share the pictures with us and the worldwide community.

---
Opening Hours
Opening hours - and please always check our front page for special events before coming. You are welcome to phone on 4674 2055 and check about the activity fo the day. The FabLab space is available for trusted users with a keycard 24/7/365 - excluding laser and CNC cutting, which are only available within staffed hours (fire risk). We are not staffed weekends and holidays.
---
What to expect?
We can help you 5-10 minutes guiding you to a good possible solution, 5-10 minutes helping you get started using specific software and 5-10 minutes getting you started with laser cutting, CNC milling or using other machines. The more information you have extracted from this site the better. If you are a new user, please take note of the intro timeslots we have stated on our front page (see yellow paragraph).
RUC offers this free service to help society and businesses, spread knowledge of new digital fabrication methods, and foster a creative collaborative innovative environment.
You are our guest and you help us helping you by doing as much as you can yourself, especially reading our web page and guides. Please make sure you read our credo at the bottom of this page at least once.
---
What software should I use?
First you need to consider what you want to make, what steps are needed and which tools are part of the process. We have compiled a curated list of the different software we recommend for different workflows on this page:


Please bring files on a USB stick in the right format for the machine you want to use, and preferably also your computer so you can fix any issues. All files are transferred to the machines via USB sticks. File conversion and subsequent cleanup is often as much of a bother as the actual cutting job.
---
Facilities
We are interested in all forms of modern digital production and have a wide range of machines available:
Laser cutters (100W CO2, for cloth, card, cardboard, plywood, HDF, acrylic/plexiglass (1200x900mm, max 6mm thick material)
Metal laser cutter (by appointment only, 1500W Fiber Laser, for steel up to 10mm, stainless up to 5mm and alu up to 3mm)
3D printers PRUSA i3 MK3s: (250x210x210mm), Artillery Sidewinder X2 (300x300x400 mm) Creality PrintMill CR-30 (200x170x∞ mm)Lulsbot TAZ 6(280x280x250 mm)
Large format CNC mill for materials such as plywood (2010x1200mm, max material thickness 12mm for 2D, 100mm for 3D)
Medium format CNC mills for materials such as plywood (600x1000mm, max material thickness 12mm for 2D, 100mm for 3D)
Sewing workshop
Metal workshop, including CNC lathe, TIG, MIG/MAG, spot and plasma welding etc.
Other special equipment: Vaccum forming machine, High Temp Oven (1700℃, 20x18x18cm) etc.
Read more about our facilities here
Large Format Printing
We do have a large format printer, but it is only available for RUC related projects. If you are not from Humtek, use the facilities at your own institute if possible (Institut for Mennesker og Teknologi v/ Geografi and Institut for Kommunikation og Humanistisk Videnskab v/ Kommunikation both have large format printers). If both fail, then come and ask us :)
---
Where can I buy materials?
As stated above we do not sell materials of any kind, but smaller samples of materials from our leftover bin are free. Please do not use any materials from shelves or storage.
Larger amounts of materials you must bring yourself.
---
Special events, workshops and lectures
I am a teacher. Can I bring a whole class? Yes, but you will need an appointment. We do short workshops for high school and primary school classes to the extent we have time, but we get asked a lot. You are welcome to email us and ask.
I am a politician/teacher/administrator/librarian/leader/company and we want to start our own Fablab. Can you give us a tour and advice? Yes, we usually do a brief tour of this kind once or twice a week. You are welcome to email us and ask.
I am maker/inventor/hobbyist. Do you hold courses or workshops that I can attend? Yes, we frequently hold short afternoon/evening workshops on various topics ranging from programming over laser cutting to how to use an electron microscope. We announce these workshop on our Facebook page where you can find information on how to sign up.
---
Restrictions
Can I mass produce for profit?
No, that is beyond the scope of our lab since we are publicly funded. You should use somewhere like Cotter or Vrkstedet or Betafactory or illutron.dk Metal laser cutting: Danlaser (metal, Jylland) or Herfølge Kleinsmedje (metal, Cph) depending on your needs. (Email us if you want to be added to this list.)
Can I leave the machine running and go out for lunch/shopping/smoking?
No, that can be extremely dangerous, especially if you are using the laser cutters or the CNC machines. We have experienced serious fires with both types of machines and the user where banned from the premises.
Can I leave my project at the lab and come back to work on it another day?
No, we do not have room to store all our users projects and even if you leave it anyway we cannot guarantee its safety. Students can borrow a short term locker space.
You always have to comply with the directions of the FabLab Guru's and staff.
---
Credo
We place the lab under your protection: We trust you to use the machines and the tools. It is your responsibility to not use any tool or machine you are not qualified to use safely, or any tool marked as not for unsupervised use. You are a guest. Any directions from a Technology Guru must be complied with immediately.
Leave it better than you found it. Please tidy up after yourself, put tools etc. in their correct place, and leave it 10% better than you found it. Your project is not more important than others' projects - be considerate. The lab is a living organism that must be taken care of and kept alive - remember to set aside time for keeping the lab tidy, helping other users, organising tools, and clearing up after yourself, don't just narrowly focus 100% on your own project. It is just as important that the people here tomorrow can find the tools as it is that you can work now. The only reason there is a lab here today is that the people who were here yesterday took good care of you and the lab too.
You make your own project. We want you to learn and be able to build your own project. Our job is to enable and guide you, not build it for you. The lab is for rapid prototyping of all kinds. Help each other out. If another user is struggling (e.g. with the laser cutter), show them how to use it.
Contribute. You can use the lab for free, in return we ask you to contribute to the lab and/or the community. Do some of the following: Document your process and enable others to do the same - Help us improve and maintain the lab - Help others while you are working in the lab - Write guides on how to use the machines. For example: an engineering student rigged the laser cutter to engrave glass bottles for his wedding and wrote a howto do it so you can too.
Document your project. Please take a few images in our photobooth, please send us images, plans and descriptions on Facebook or email. All students are encouraged to use Thirdroom to document their project and process.
Respect the Technology Consultants time. The lab staff are usually working on multiple projects at the same time. Do ask, but read guides first and if you e.g. need a tool, look yourself first, then ask. They may not have time to smalltalk - don't feel it is personal. Try to be ready to receive help effectively. We will happily help you, but we can not use time on watching you start you computer / try to find a file / try to find a USB stick / I didn't save / I don't know where I saved / the file is on the other persons' computer etc. :-)
FabLab RUC offers public access in order to build a great collaborative creative environment. Don't be that person who turns up, rushed and stressed, the day before your deadline, only because that other fablab was full, and doesn't contribute anything. If you behave like this is your personal laser cutting service and your project is more important than anyone else, you will be asked to leave.
---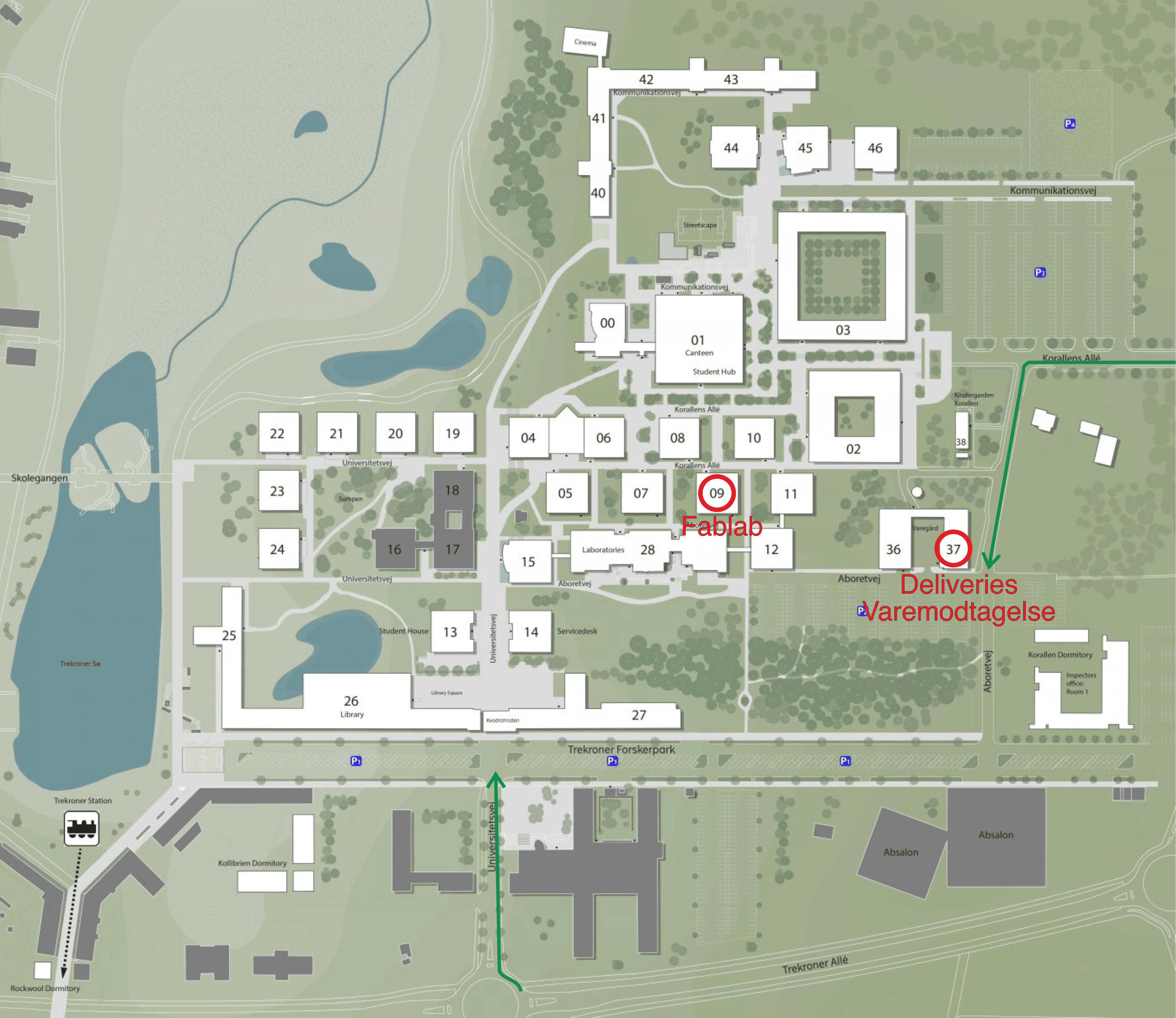 FabLab RUC, Roskilde Universitet
Universitetsvej 1, Building 9.1 (large projects and deliveries: building 37)
4000 Roskilde Denmark
Tlf: +45 46742055
Telegram - open channel