Published: January 18, 2023, Edited by: Nicolas Padfield
AI fagcafe/seminar
Fagcafe / Seminar on Artificial Intelligence at Fablab RUC
Friday Feb 10th 2023, 1400-1800 at Fablab RUC, building 9.1 (find us)
Unlock the mysteries of Artificial Intelligence at our upcoming seminar at Fablab RUC! Join us for an engaging and informative afternoon of talks, hands-on experimentation and socialising as we delve into the cutting-edge world of AI. Sign up to the Facebook event and stay tuned for updates on the program and speakers
(this text was written by an AI - Chat GPT-3)
This is a part technical, part social event, with an informal mix of short presentations, socialising, doing experiments, and afterwards we may order pizza and drink beverages.
Please sign up to the Facebook event https://www.facebook.com/events/584038383544829 so we know about how many people to expect (sign-up not mandatory)
Programme (subject to change)
1400 arrival

1415-1435
Short intro to AI (including what is a neural network, the importance of training data and some anecdotes)
Niels Jensen, Fablab RUC

1445-1505
Overview of artistic AIs - Stable Diffusion, Midjourney, DALL•E 2 etc. (examples, weaknesses, and how we can use the instant visual feedback of art to get an impression of what the complexity is doing. Why do people have 12 fingers)
Nicolas Padfield, Fablab RUC

1515-1535
Diagnostcs from medical imaging with Convolutional Neural Network (CNN), short intro to Artificial neural networks (ANN) and deep learning (DL)
Henning Christiansen, Professor, Centre for Mathematical Modeling - Human Health and Disease

1545-1605
Update on the ChatGPT takeover - Elon Musk's AI venture dubbed ChatGPT was released to the public in November 2022. In this talk, Matt will review the impact of ChatGPT on different professions so far and speculate on its impact going forward.
Asst. Prof. Matthew J. Spaniol.

Maybe more talks - to be announced

Setups - try using Chat GPT-3 to write code for some Arduino + neopixel setups, or for P5js on your own laptop
Bring a laptop
The event will be in Danish or in English if at least one person wishes.
People from outside RUC welcome.
Max 75 persons. First to arrive.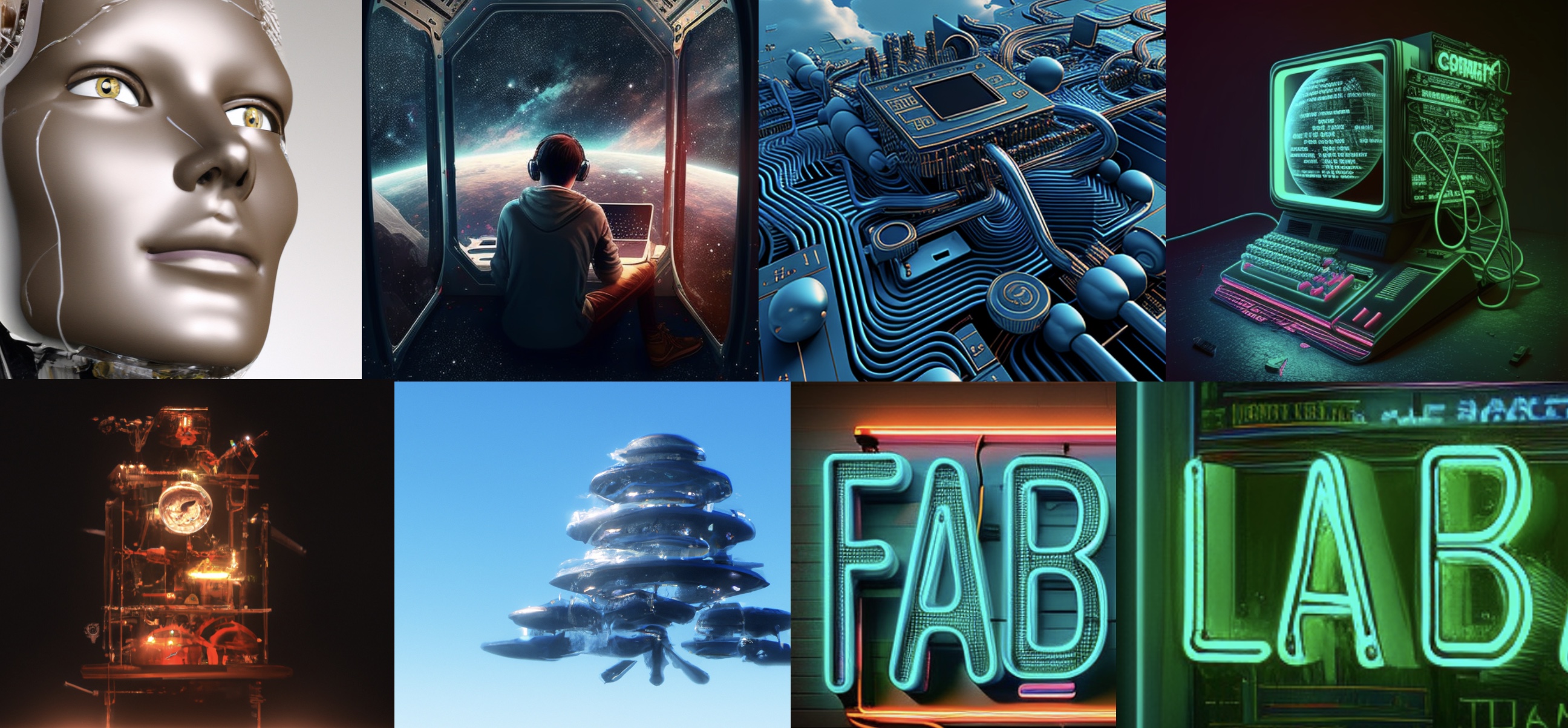 Art generated by Nicolas Padfield on Midjourney and DALL•E 2. Persons do not exist.