Published: April 12, 2016, Edited by: Mads Hobye
Sparkfun MP3 Shield - a simple guide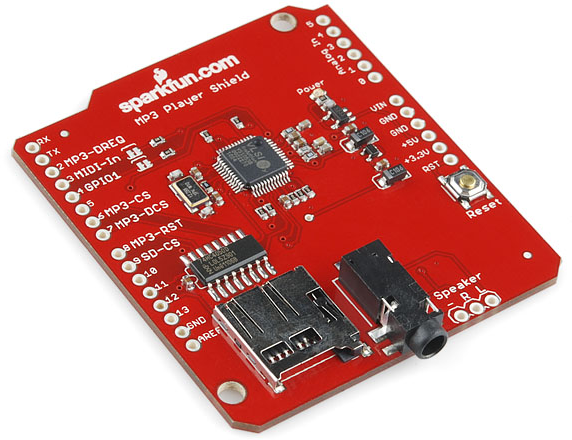 This guide helps you to do the most common scenario. Connecting a button to Ardunio and playing a sound when it has been pressed.
Download this zip file.
Copy the libraries from the libraries folder to your Arduino libraries folder. You need to copy TWO folders (SDFat and SFEMP3Shield) to "Documents/Arduino/Libraries".
Restart your Arduino app so it finds the new libraries.
Format your SD card to FAT 16 or 32 (it is most likely that already).
Put an MP3 File on the SD card in the root. Name it "track001.mp3"
Open the sketch "fablab_mp3" and upload it to the board.
Connect a cable/button between ground and analog 0 to trigger the MP3.
Example wiring