Published: October 04, 2016, Edited by: Mads Hobye
FabLab RUC internship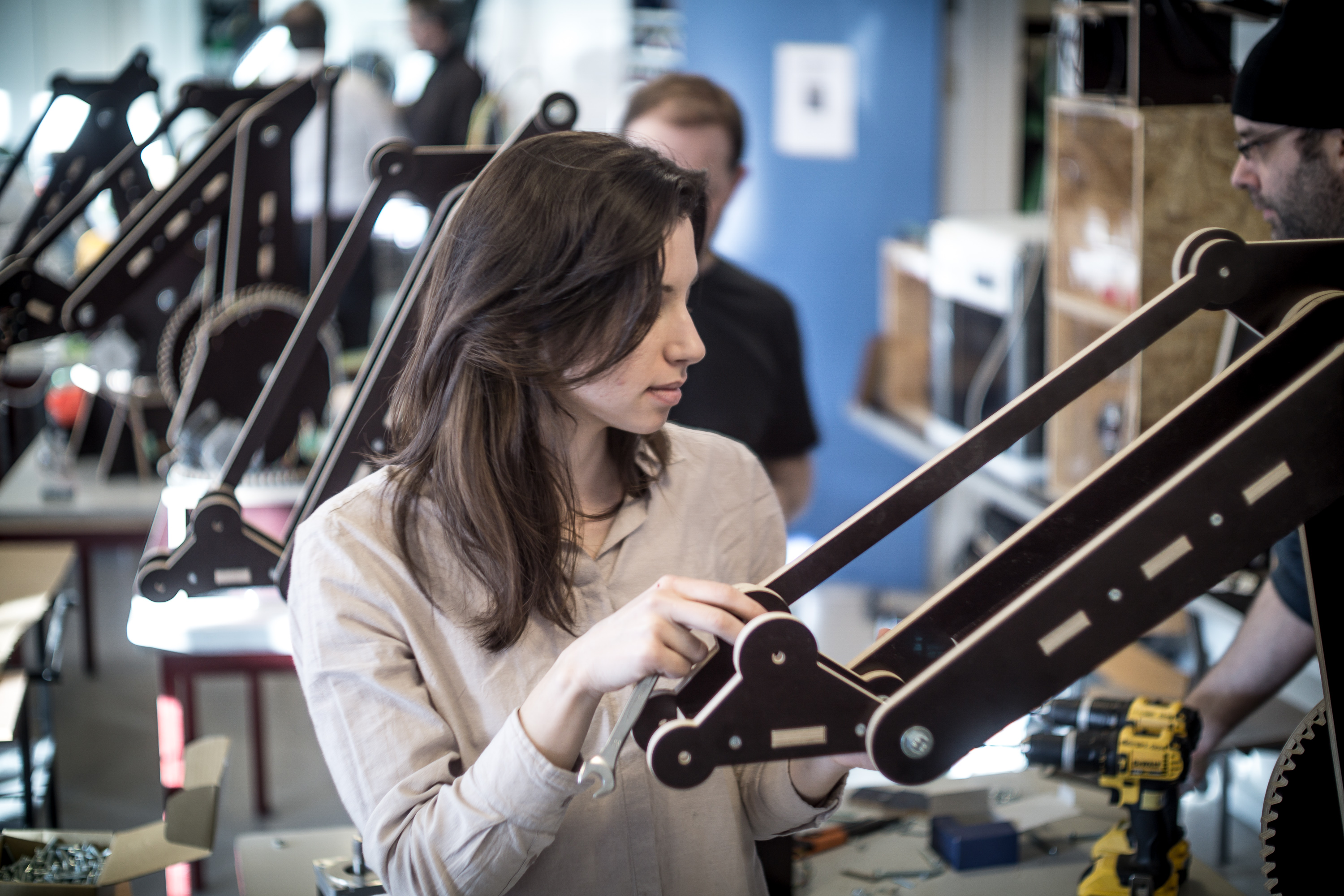 Image: Nicole working with us on building robots as a part of her internship.
At Fablab RUC we love having interns working alongside us exploring the possibilities of the lab. To simplify the process we have made this page for potential interns to read through and apply for an internship at our lab. If this is in your interest then you can read more about it below:
As a rule of thumb you will be using 1/3 of your time on helping students and organizing the lab and 1/3 getting to know the machines and 1/3 on your own project(s).
What to expect from us:
We will teach you how to use the main machines (Laser cutter, CNC, 3D printer etc.) and give you insight into biofabbing
You will get ongoing mentoring/dialogue throughout the period.
You will get access to the lab 24/7.
You will have access to multiple talented people which you can tap for knowledge.
What we expect from you:
To contribute to the lab (see the idea catalogue below).
Most days we expect you to structure your own time. So we need you to be self-reliant in doing so.
Help the users of the lab. Typically: Laser-cutting, CNC-milling, equipment handling etc.
Make at least one guide/tutorial/blog post a month about a project or a solution.
To be present in the opening hours:

Monday, Wednesday, Thursday, Friday: 10-16.
Tuesday: 12-21.
To have one day a week where you are in charge of opening and closing the lab.

Twice a year we have a two-week workshop. In those days we expect you to help out full time with the student projects.
To make a short one-page report about your stay to put on our website.
Practical info:
There are no specific application dates - we take in interns on an ongoing basis.
If the internship is more than two months then we have a mutual one month termination period.
The stay will not include any salary from Roskilde University.
Please note you may be not insured by Roskilde University's insurance as you are not employed. It is, therefore, important you are insured by your home university or are covered by private liability and health insurance. There may be exceptions to this rule in the case of working with interns coming from a Danish School.
We do not do summer internships since the lab is closed during the summer.
For you to have a chance to settle in and get a good sense of the lab we rarely accept an application that suggests an internship period less than two months. We recommend for 3-12 months.
The summer holiday is a strange time, because we are away a lot, but also often teach an interesting course and/or do a project at a music festival. So you cannot start an internship in the holiday (we aren't here enough to take care of you), but if you have already learned the place and the machines, it can be a good experience to stay on.
Idea catalog of things to do:
To help out at the lab and to give you an expectation of things to engage in we have made the following idea catalog. It should not be considered a todo list.
Enable users of the lab to get their first success quickly:

Make Instructables/guides/howtos about common questions.
Simplify the tools and the setups on the machines.
Organize the labs (label things and organize things in according to how they are used)
Optimize the space:

Make good working conditions.
Make cozy hangout areas for creative processes.

Help us get famous:

Document projects in the lab and publish them on the web (facebook, website etc.)
Create amazing videos that document the life in the lab.
Create amazing projects, document how you did it and make nice a video about it.
How to apply:
If this sounds exciting to you then write us an email at fablab@ruc.dk
Be sure to include all the following:
Name
Phone
Email
Short description of your skills in 3D, Programmering, Electronics, Woodworking etc.
Link to your school/education website
Link to or attach c.v. / portfolio
Contact person at your education
Suggested start date of your internship
Suggested end date of your internship
List of other obligations you have during this period (school assigments, courses etc.)
Motivated application - tell us about yourself and your interest in Fablab RUC
Anything else you want to tell us about
Whether you would like to be a part of a research project (read more bellow). This would be within interactive art as a part of the computer science department. This internship would then be 50% time to learn to use the tools in the lab and 50% time working in collaboration with an ongoing research project. The specific task / theme will be decided in dialogue with you. Does this sound interesting to you?
Confirm you have read the general description of is expected to be an intern at Fablab RUC http://fablab.ruc.dk/internship
Home address (for granting you a keycard if approved)
Url to passport like photo of you (for granting you a keycard if approved)
If you have any general question, then please contact:
fablab@ruc.dk +45 46742055
NEW! Be a part of a research project (optional)
We can offer an internship in which you have a development role in a larger research project. This is within interactive art as a part of the computer science department. This internship would then be 50% time to learn to use the tools in the lab and 50% time working in collaboration with an ongoing research project. The specific theme and your responsibility will be decided in dialogue with you, but it could be something like this:
Designing an interactive robot learning platform (PCB designing, software interface, product design).
Designing interactive technology integrated with hand-blown glass.
Advanced touch sensing on complex 3d surfaces (Arduino, touche touch etc.).
Exploring live programming for visual or physical computing.
Composite material explorations combining electronics and soft materials like silicone, latex etc.
Designing modular kit based experimenting tools for interactive explorations.
You will be working with the researchers Mads Hobye and Maja Fagerberg.
If this sounds interesting then make sure to mark the checkbox with "I am interested in being a part of a research project" in the application. If you have any questions then feel free to contact mads@hobye.dk
Nicoles testimony of her internship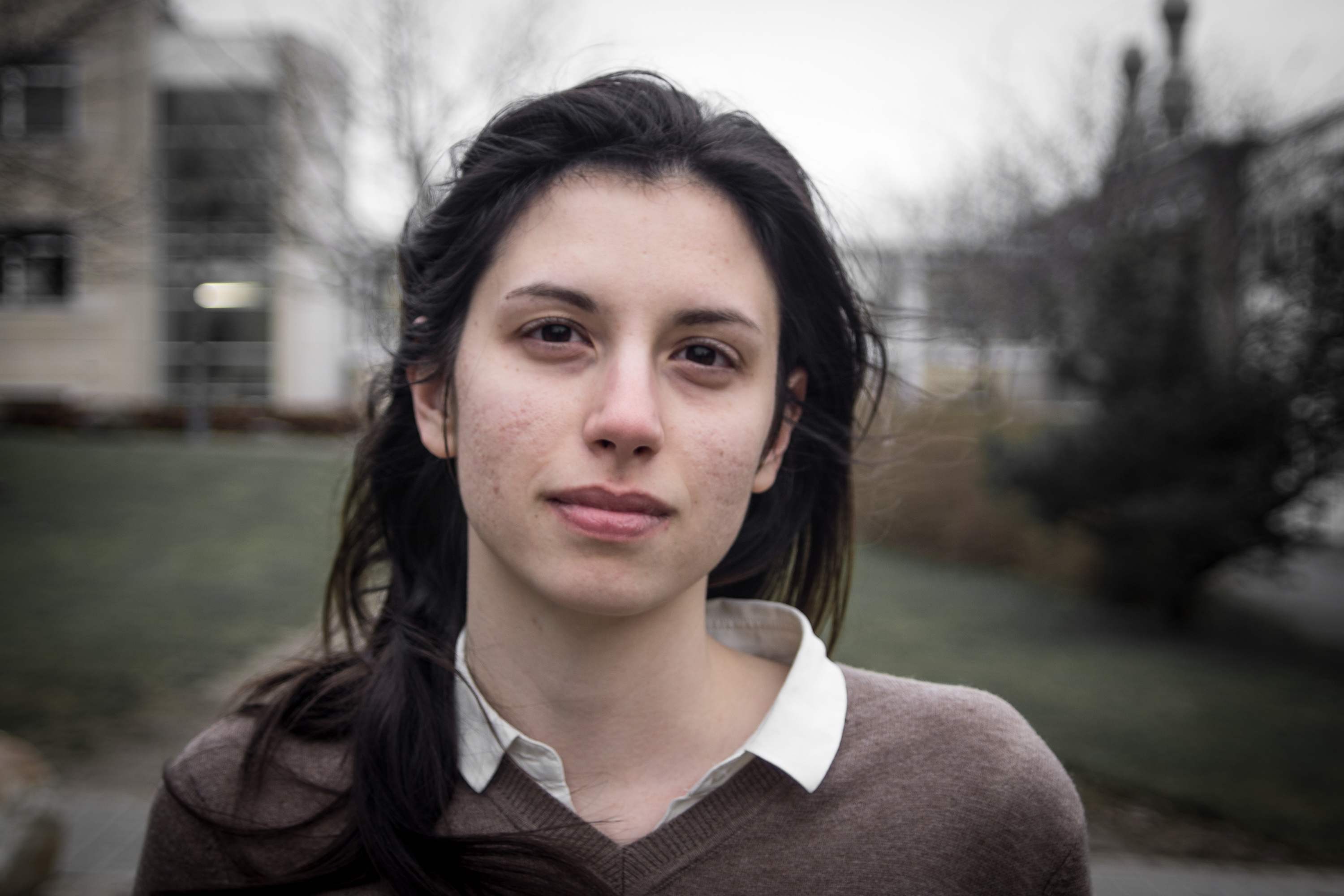 I've been an intern at Fablab for six months. I come from a design school, and my skills on electronics and rapid prototyping - which are the Lab's main functions - were very limited when I applied for the internship. Despite that, I was very welcome here.
Here are some advice for the newcomers:
Learn to operate all machines. These are expensive and high-tech tools you will not get many chances of using elsewhere.
If you want to learn a new skill, the best way to do it is through a project that will acquire the knowledge of it. There's a difference between wanting to learn a skill and needing to learn a skill - the latter will probably force you to work harder.
Don't start too many projects at once. Focus on one project at a time, or aim at a project that will teach you multiple skills.
Don't spend time recreating other people's projects. Try to make something new, preferably something that hasn't been done yet.
Keep asking questions if needed, even when everybody seems too busy. Keep asking and don't get discouraged if you get ignored once or twice, people are there to help you.
If you see somebody working on an interesting project, talk to them. You can pick up a lot, if you just ask people what they're doing.
If you'd like to ask me more about my experience, write me an email at nicolelyg@yahoo.com
We have had the pleasure of the following as interns:
Jason Knight (Brunel University, London)
Alice Walsh (Brunel University, London)
Rosen Lozev (Roskilde University)
Katarzyna Helinska (Aalto, Finland)
Harvey Rutland (Brunel University, London)
Nick Hansen (Brunel University, London)
Simion Iulian Belea (IT University, Copenhagen)
Simon Kolff (Sustainable Design, Aalborg University, Design Academy Eindhoven, Netherlands, Aarhus School of Architecture, Flow Loop)
Radul Radulovic (Brunel University, London)
Nicole Lygourioti (Greece)
Anne S. Jeppesen (Denmark)
Gabrielė Jerošinė (KADK / Lithuania)
Maria Henriques de Jesus (University of Copenhagen / Portugal)