Published: October 02, 2019, Edited by: Martin Malthe Borch
The Insects Are Coming! - Substituting soya feed with insects in meat production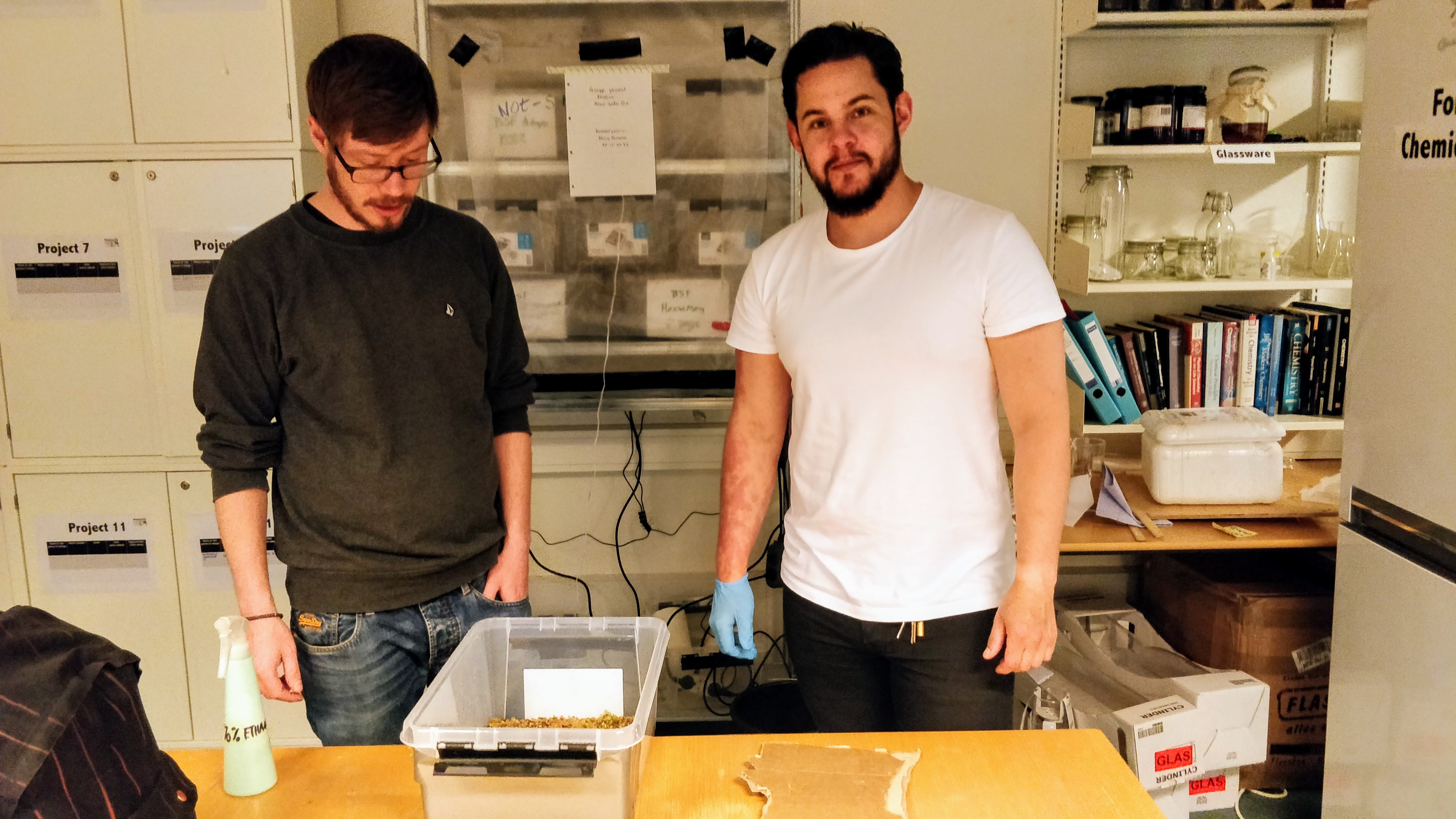 Project group in front of the experimental setup
(English summary and additional information below)
Blogpost af Martin Malthe Borch. Publiceret 2. okt.2019
Projekt af: Simon Dec Pedersen, Morten Bonde, Philip Thomasen Nielsen & Thea Sloth Jørgensen. Tre sambac og en humtek studerende, alle 3 semester. Vejleder Ane Kirstine Aare
Download rapporten (Dansk)
Formål
Projektet "insekterne kommer" havde til intention at undersøge muligheden for at anvende protein forædlet gennem insekter til anvendelse i foderindustrien til æglæggere samt slagtekyllinger. Dermed søgte projektet at erstatte det dominerende sojaprotein som konventionelt bliver anvendt, hvorfor insekter ikke blev valgt for konkurrence dygtige ifht. pris, men derimod bæredygtighed.
metode
Projektet benytter sig af en tredelt tilgang til besvarelsen. En socioteknisk analyse afdækker den eksisterende værdikæde med dertilhørende barriere for nichen som er insektprotein. Herefter bliver fordelene ved insektprotein over for sojaprotein analyseret gennem et livscyklusperspektiv, hvilken ender med en præsentation af to regionalt tilgængelige resstrømme hønsemøg og kildesorteret organisk dagrenovation. Tredje analyse undersøge om disse kunne omdannes til protein.
Eksperiment
Her udførtes 16 forsøg på tre forskellige insekter: melorme, fårekyllinger og black soldier fly larver (BSFL) der var 5 og 8 dage gamle ved start. Når fluelarverne er 5-8 dage gamle, er de på størrelse med små riskorn. Disse insekter blev i en periode på 16 dage dagligt tilført substrat bestående af de to ovenstående resstrømme samt et kontrolsubstrat bestående af hønsefoder. I perioden blev der hver tredje dag vejet i populationen, for at kunne følge med i vækst på tværs af de forskellige populationer.
Resultat
Melorme og Fårekyllinger vækstede ikke, hvilket var forventeligt grundet fugtigheden i det vedlagte substrat. Derimod havde BSFL betydelige vækstrater i forhold til populationerne tilført kontrolsubstratet. Forsøgene hvor BSFL blev tilført kildesorteret organisk dagrenovation, viste på trods af ringere foderkonverteringsrater den samme vækst (g) som kontrolsubstratet. Der foreligger altså et potentiale, gennem insekter, for at forædle resstrømme som kildesorteret organisk dagrenovation som substituerende for sojaprotein
Læring og erfaring ifht. at få støtte af BioFabLab til projektet
Arbejdet med forsøg har været en spændende måde at arbejde med et projekt på.
Det har været en rigtig god måde at understøtte projektets andre analysedele.
Det har været en meget lærerig proces, med mange metodiske berigelser.
Det har været en spændende måde at skabe egen empiri på.
Det har generelet været virkelig positivt at opleve hvilke muligheder der findes for at forfølge ens interesse og eksempelvis lave forsøg.
Da anvendelse af biofab var nyt for alle i gruppen, oplevede vi simple udfordringer omkring hvilke muligheder der fandtes.
Det var fra start en udfordring at forudse hele forsøgets forløb, hvorfor perioder blev meget travle.
English summary and FabLab comments
This project was made by 4 students. Three from sambac (bachelor in social sciences) and one from humtek (bachelor in humanities and Technology): Simon Dec Pedersen, Morten Bonde, Philip Thomasen Nielsen & Thea Sloth Jørgensen. Supervisor Ane Kristine Aare.
The aim of the research was to investigate if imported soy protein used as animal feed can be substituted with insect protein grown on organic household waste.
Learning
The group succeeded in cultivating black soldier fly larve (BSFL) on organic household waste increasing the fly larvae biomass 16 times in two weeks. They also compared the protein content and quality and concluded that producing protein as feed in this way is possible. They identified that the current barriers are political and regulatory in terms of using insects as animal feed.
Though the growth seed up was very simple they got good hands-on insights into the living biology of the larvae. How the larvae behaves, how they move, turns into flies and general how fragile they are when you handle them. They also got an idea of the the need for keeping a good moisture balance. And the whole lab got a good idea of the smell involved in this type of production. Physical and hands-on experiences that would be difficult to get by only reading theoretical literature.
Materials and Methods
The climate growth chamber was constructed from an old metal shelf system covered in plastic. Plastic boxes were used to grow the larvae. We setup an automated humidifier, but in the end a handspray with water was used to moisture the grow boxes. The temperature was controlled by a hairdryer connected to a simple on-off temperature controller. (2-300 DKK)
-Download full report (Danish)
-Guide to cultivate mealworms
Photos from the project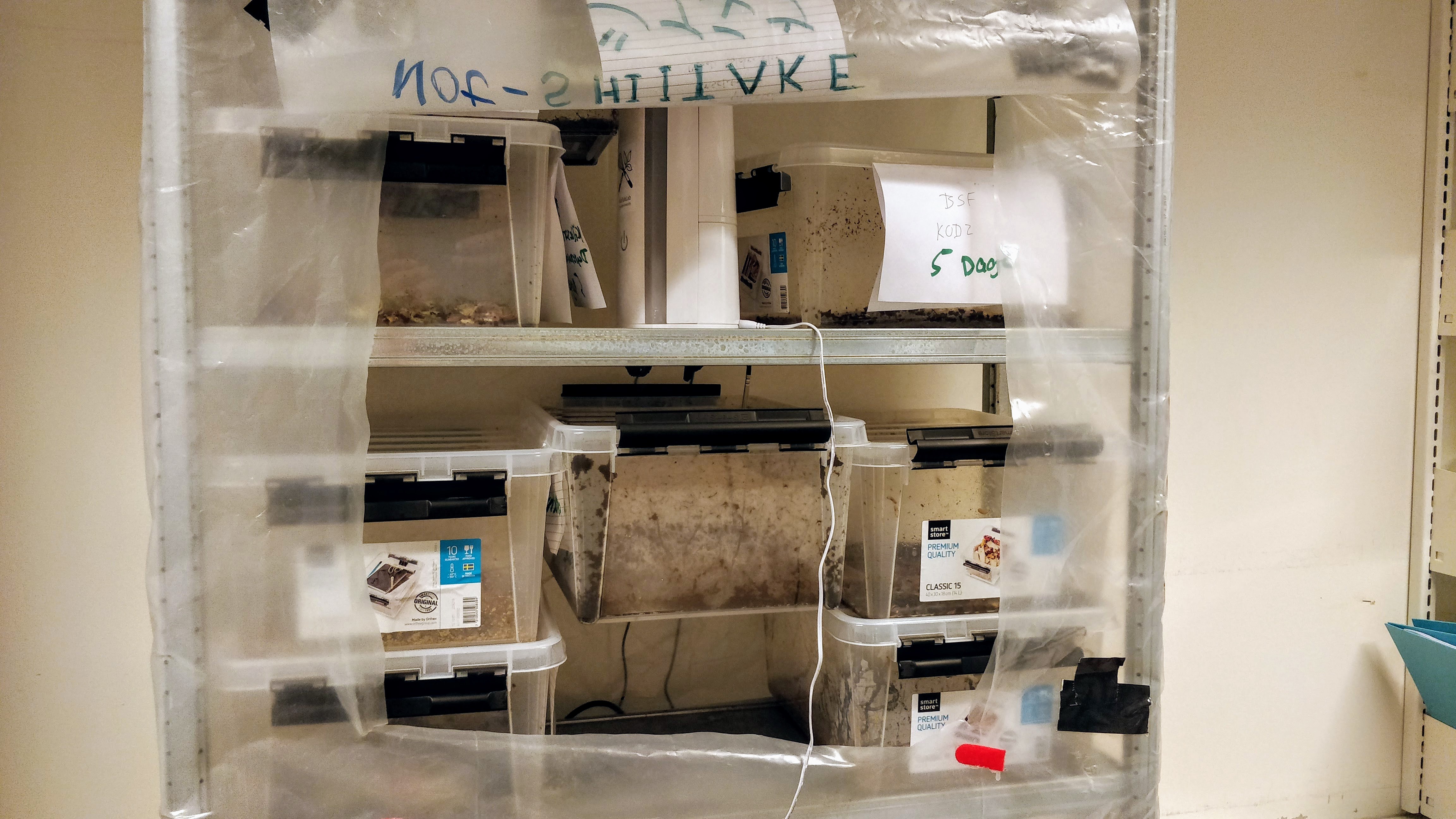 Growth setup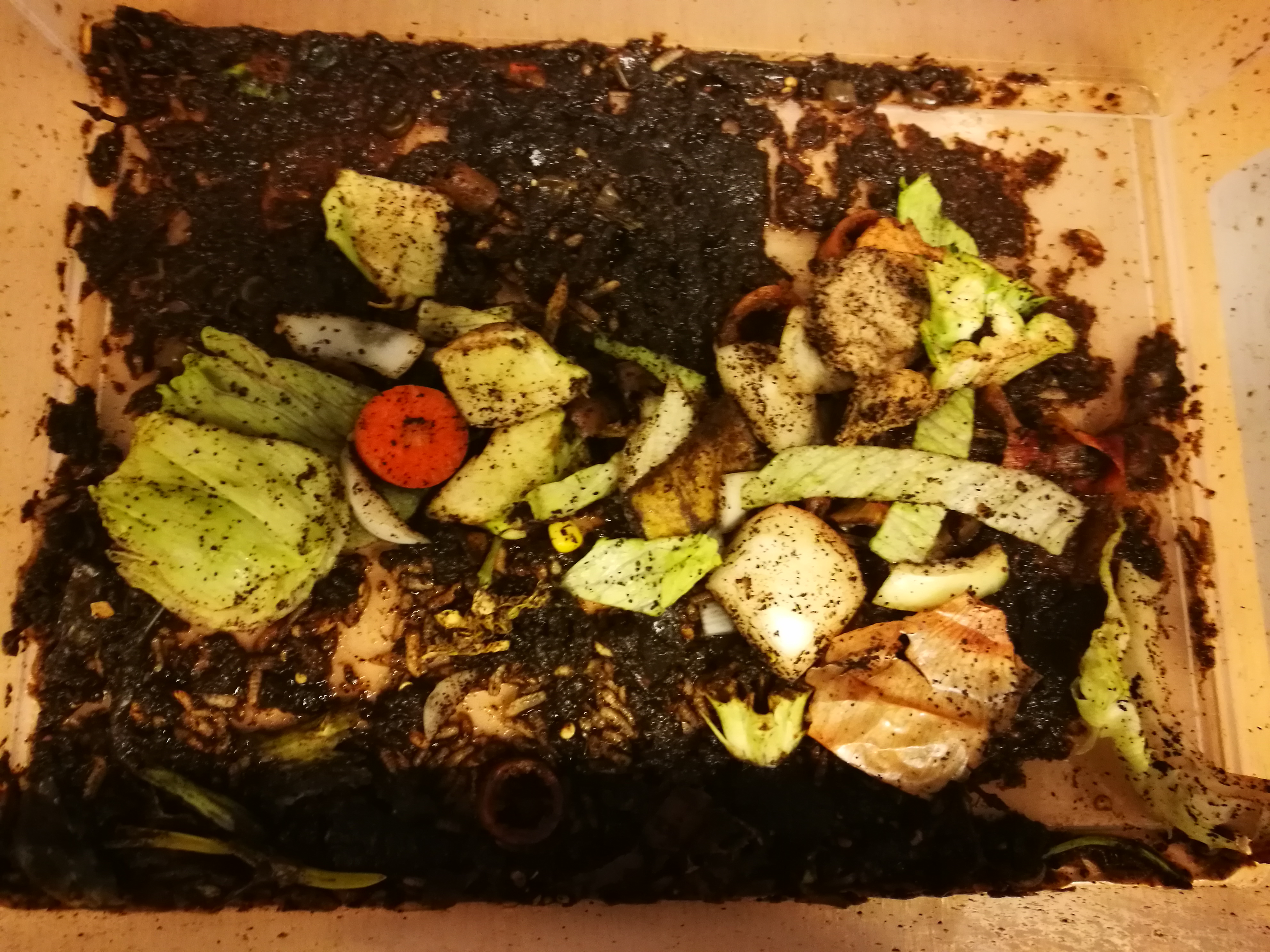 Growth setup, Larvae and organic fraction of household waste
Growth setup, Larvae and organic fraction of household waste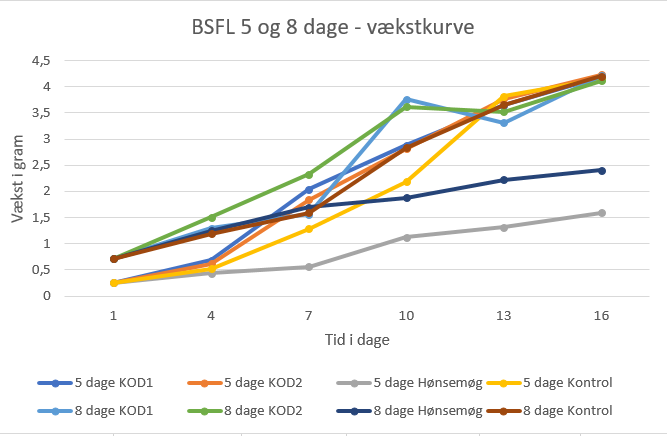 *Growth curves of the larve on different medium. KOD is the organic fraction of household waste (Kildesorteret organisk dagrenovation) *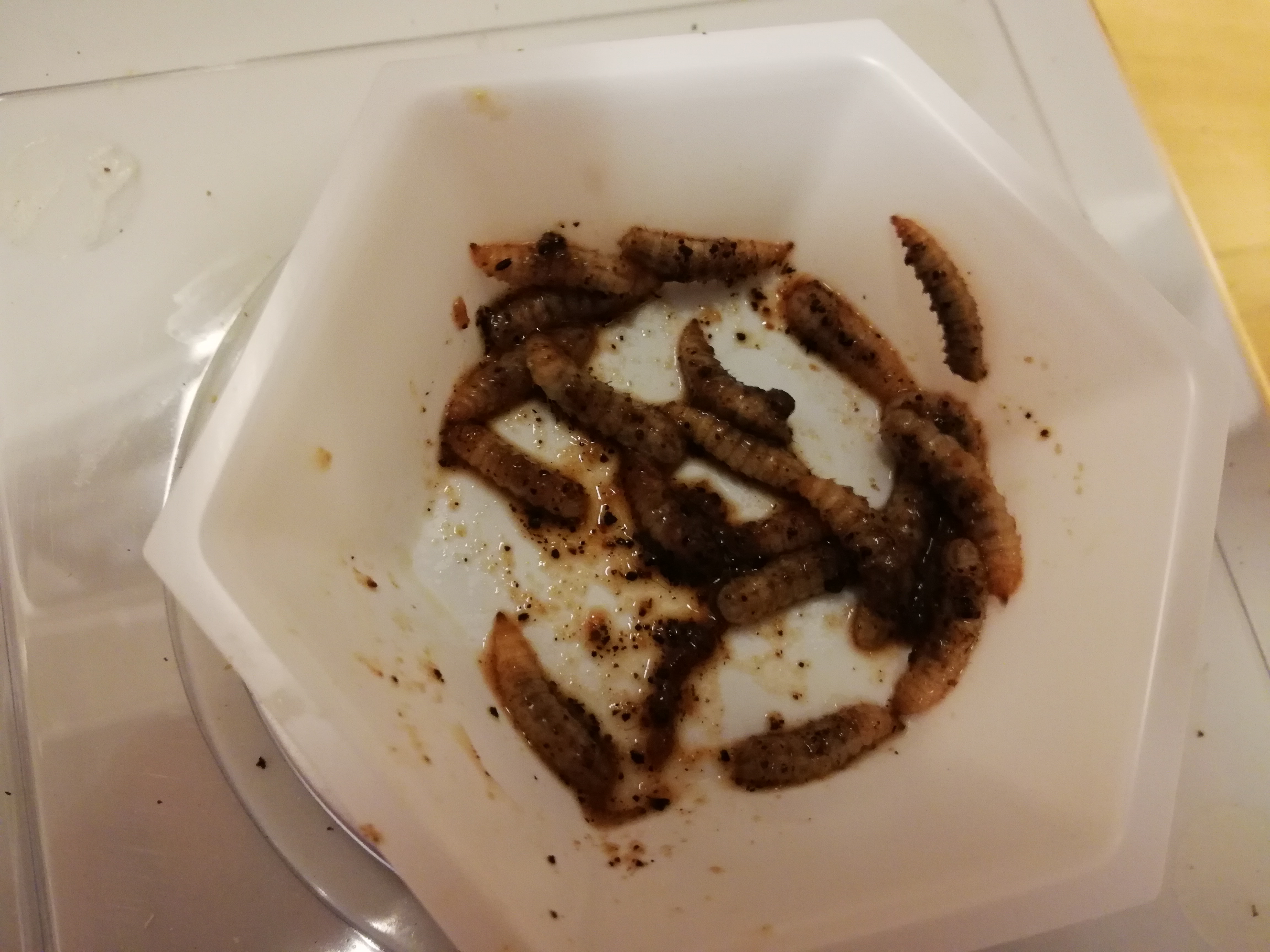 Final size of the larvae grown on chicken manure.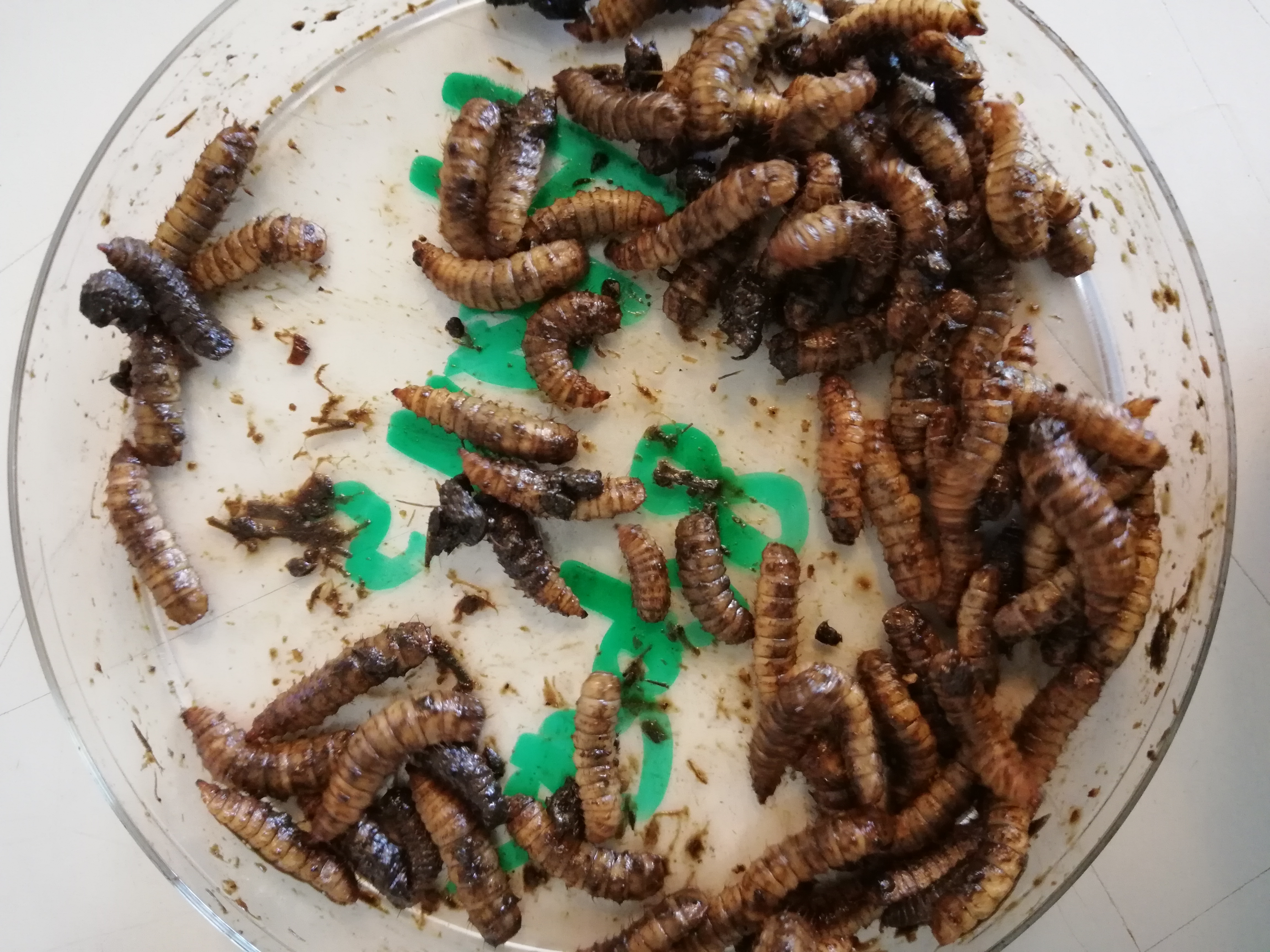 Growing black soldier fly larvae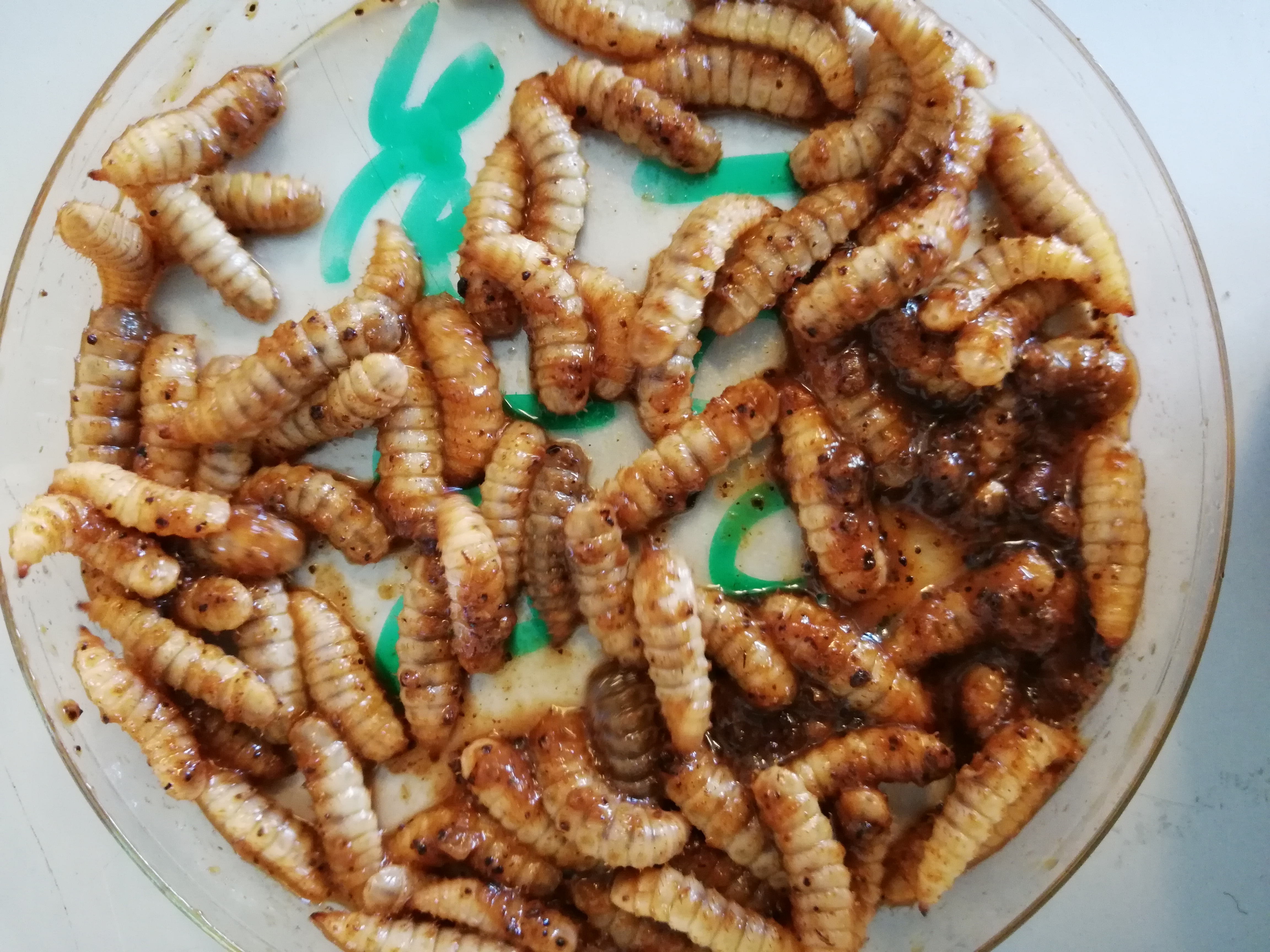 Final size of the black soldier fly larvae
BSFL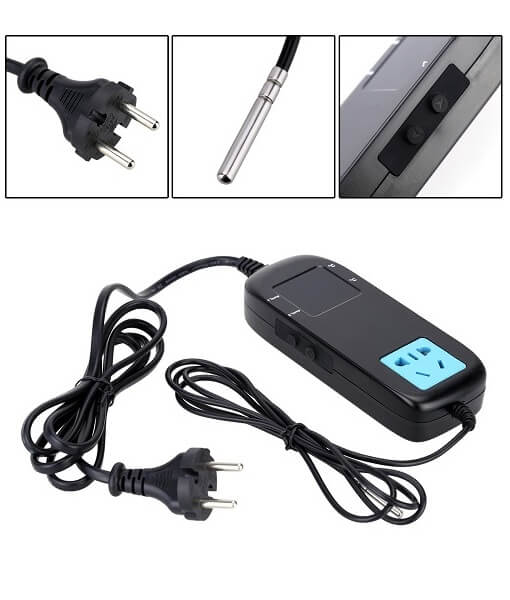 simple temperature control device used with a hairdryer to control the temperature